The East Metro, Zhongshan Metro, and Ximen Metro Malls link together several principal Taipei Metro stations, offering a variety of goods, and products, as well as food and drinks. The Xinzhongshan Linear Park, located above Zhongshan Metro Mall, is a unique and user-friendly park nestled among city streets. It was designed to provide civilians with a large strip of public space to be used for recreation, hosting events, and to showcase special attractions. These locations are all accessible by the Bannan, Tamsui-Xinyi, or Songshan-Xindian Lines of the Taipei Metro.
Exits R4、R5 of Zhongshan Metro Malls are closed for construction.
Introduction of Zhongshan Metro Mall
1.Location
2.Overview
Zhongshan Metro Mall, located between Taipei Main Station and Shuanglian Station, connects the adjacent Station Front, Nanxi, and Chifeng Street shopping districts, combining them into a distinctive district brimming with culture, commerce, art, and life. Home to a wide selection of stores, this mall is a unique artistic hall within cosmopolitan Taipei.
The Xinzhongshan Linear Park between Zhongshan Station and Shuanglian Station is a unique, urban park suitable for family recreation, exercise, or exhibitions. Various services are offered at this park, including a craft fair held on the second weekend of every month and food trucks which set up shop every weekend.
The Jazz Square consists of a dancing area and garden area. People can practice street dance within the open space of the dancing area, whereas the garden area is an additional location in Taipei for civilians to relax and enjoy the greenery. In addition to weekly music events, the Square also hosts shops selling beverages and light meals, as well as restaurants, inviting visitors to slow down their pace of living
3.Opening Hours
11:00 to 22:00 daily (Book Street: 11:00 to 21:30)
4.Environment
The Zhongshan Metro Mall is 815 meters long with total area of 4,446 pings, including squares, passageways, and stores. It has 7 entrances and 4 squares.
The Xinzhongshan Linear Park is located above the Zhongshan Metro Mall. It is 500 meters long and consists of 5 themed zones: "Shuttle Plaza", "Rover Station", "Lunar Forest Plaza", "Jazz Square", and "Constellation Play Area".
5.Operating Businesses
The Zhongshan Metro Mall is very convenient in terms of transportation and connects Taipei Main Station and Shuanglian Station. The mall is home to stores retailing goods, clothes, food, beverages, and books. Each entry/exit way leads to an adjacent shopping district. The section spanning from Zhongshan Station to Jazz Square is acknowledged as the longest book street in Taiwan, offering books, stationery, handicrafts, light meals and drinks, and coffee.
Zhongshan Metro Mall(Taipei Main Station-Zhongshan Station)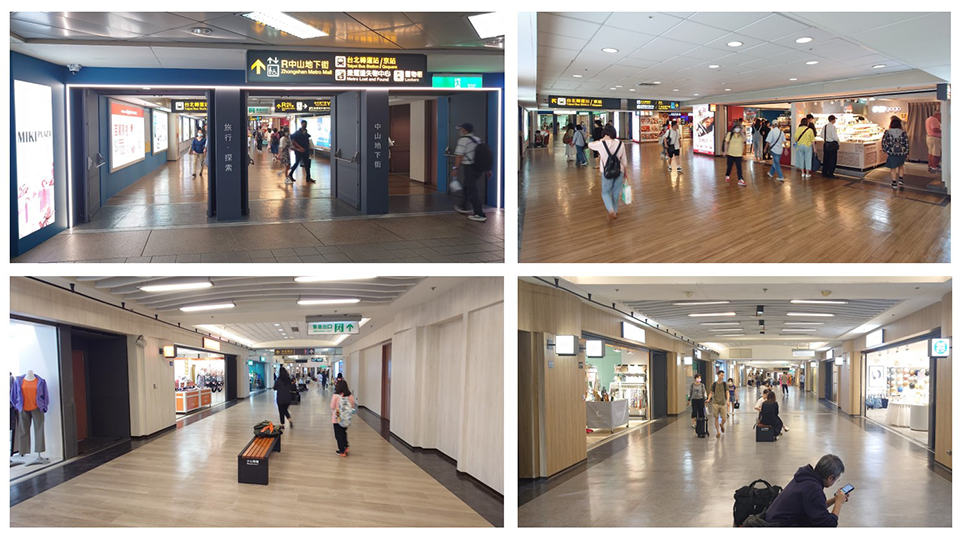 Zhongshan Metro Mall(Zhongshan-Jazz Square)
Jazz Square-Dancing Area and Garden Area
Zhongshan Metro Mall(Jazz Square - Shuanglian Station)

Xinzhongshan Linear Park