The East Metro and Zhongshan Metro Malls link together several central Taipei Metro stations, providing various goods, products, as well as food and drinks. The Linear Park, located above Zhongshan Metro Mall, is a unique and user-friendly park nestled among city streets. It was designed to provide a large strip of public space to be used for recreation, host events, and to showcase special attractions. These locations are all accessible by the Bannan Line or Tamsui-Xinyi Line of the Taipei Metro.
Introduction of East Metro Mall
1.Location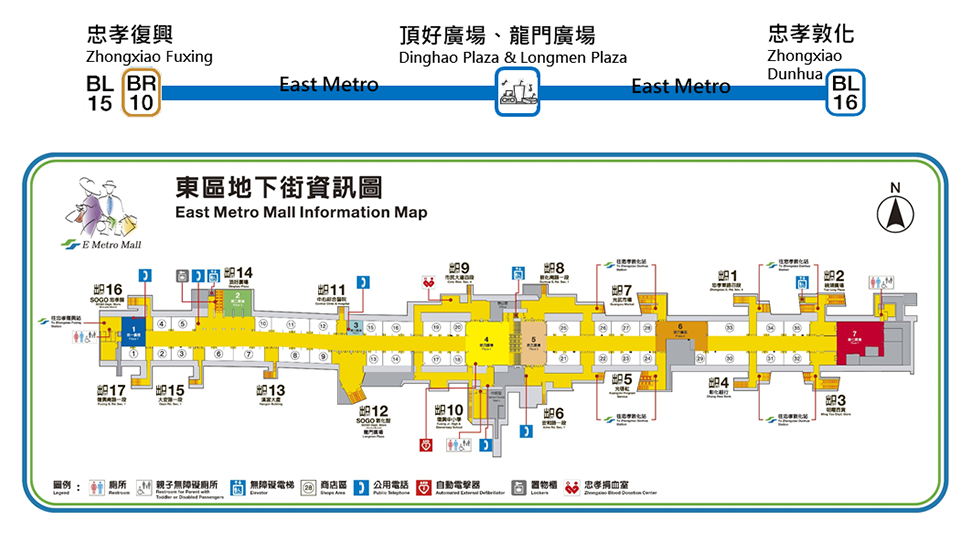 2.Overview
East Metro Mall is located between Zhongxiao Fuxing Station and Zhongxiao Dunhua Station. Its passageways connect the SOGO and Ming Yao Department Stores as well as the Wellcome and Tongling Shopping Districts. The connecting of these assorted districts offers a diversified shopping experience.
The Wellcome and Longmen Squares are both located near entrances to the Metro Mall. Their convenient location makes them a great location for hosting events, and they are also available for commercial use.
3.Opening Hours
11:00 to 22:00 daily
4.Environment
The East Metro Mall is 725 meters long with total area of 3,177 pings, including squares, passageways, and stores. It has 17 entrances and 7 squares.
The Wellcome Square and Longmen Square are right next to entrances to the East Metro Mall. Decorative artworks depicting a "Waterfall" and "Fountain" are placed at the entrance to commemorate the unique history and geographical environment of the local Liuogong Aqueduct and commercial districts.
5.Operating Businesses
The East Metro Mall is very convenient in terms of transportation and connects Zhongxiao Fuxing Station and Zhongxiao Dunhua Station. The mall has stores selling commodities, fashionable clothing, boutique goods, cosmetics, electronic goods, and gourmet food. Entry/exit ways also lead up to surrounding shopping districts, offering people a high-quality shopping destination.
East Metro Mall (Zhongxiao Fuxing Station-Wellcome Square, Longmen Square)
East Metro Mall (Wellcome Square, Longmen Square)
East Metro Mall (Longmen Square – Zhongxiao Dunhua Station)