Metro Tickets & Travel Pass Recommendations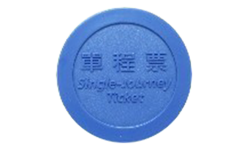 These include single-journey tickets and discount tickets for the elderly and disabled. Suitable for single trips.
These include Taipei Metro tickets (one-day passes, 24/48/72hr Taipei Metro Passes), Taipei Fun Passes (Transportation Passes and Unlimited Passes, Exploring Passes, Classic Version, 2-day THSR Holiday Tickets and 2-day THSR Joint Tickets).
The All Pass Ticket is a periodical commuter ticket that covers nearly all public transport in Greater Taipei. It is issued on the well-known EasyCard. With the All Pass Ticket you may travel as far and as often as you like on the Taipei Metro, Danhai LRT and all buses (except buses charging by distance) in Taipei and New Taipei City. You also enjoy 30 free minutes of YouBike rides, the public bicycle sharing system in Taipei.
These include EasyCards, iPASSes, iCASH, HappyCash. These electronic tickets can be topped up and are accepted both on public transports and for small payments.
These include Events Pass, single-journey tickets for cyclists, group tickets and joint tickets (including for the THSR, Taoyuan Airport MRT and Kuo-Kuang Airport Bus).